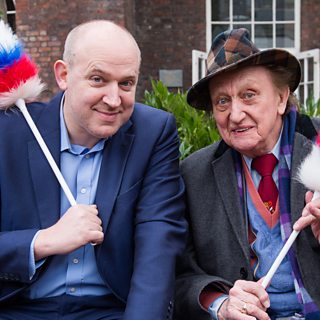 Chain Reaction is the talk show with a twist where one week's interviewee becomes the next week's interviewer. John Cleese was first in the hot seat back in 1991 and since then, a procession of big names from the world of comedy and entertainment including Jennifer Saunders, Jarvis Cocker and Eddie Izzard have helped continue the chain.
Tim Vine is best known for his frenetic stage shows, rammed full of rapid one liners, songs and props. He previously starred in BBC1s Not Going Out, ITV1s The Sketch Show and hosted the seminal Channel 5 quiz show Whittle.
Revered as one of Britain's funniest comedians, Ken Dodd has enjoyed a professional career spanning over 60 years during which he has received numerous awards and accolades. Ken Dodd was made Sir Ken in the 2017 New Year's Honours List; and is a comedian of legendary status who has been entertaining audiences for a lifetime of happiness and laughter.
Recorded at the Bluecoat in Liverpool, Tim talks to Ken about his long career, the length of his live shows, and performs a Liverpudlian version of Hamlet...