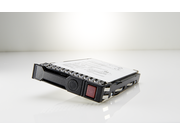 Hewlett Packard Enterprise
was notified by a Solid State Drive (SSD) manufacturer of a firmware defect affecting certain SAS SSD models (reference the table here) used in a number of HPE server and storage products (i.e., HPE ProLiant, Synergy, Apollo, JBOD D3xxx, D6xxx, D8xxx, MSA, StoreVirtual 4335 and StoreVirtual 3200 are affected. 3PAR, Nimble, Simplivity, XP and Primera are not affected.)
The issue affects SSDs with an HPE firmware version prior to HPD8 that results in SSD failure at 32,768 hours of operation (i.e., 3 years, 270 days 8 hours). After the SSD failure occurs, neither the SSD nor the data can be recovered. In addition, SSDs which were put into service at the same time will likely fail nearly simultaneously.
To determine total Power-on Hours via Smart Storage Administrator, refer to this link.
There are two types of people in the world: those who have lost data, and those who will lose data. Backup now - before it's too late! Don't know what to do? Contact Donline ASAP!