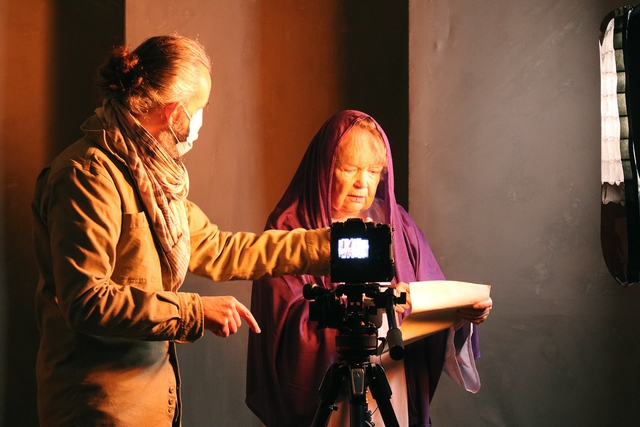 AMATEUR writers and actors from across the Havant area have come together to create a Living Advent Calendar. It tells the Nativity story through video, as a way to prepare for Christmas in Covid times.
The story of Jesus's birth will be told through 26 separate dramatic monologues, each portraying a different character in the Nativity story. Every morning during Advent, a new video will be unveiled on Youtube. Those following the story can simply click on a new clip daily – the virtual equivalent of an Advent calendar, but with real people behind each window.
Some of the two or three-minute videos were recorded ahead of November's lockdown at St Francis Church, Leigh Park. The remaining videos will be recorded once lockdown restrictions are lifted in December.
Among the characters featured are Mary, Joseph, the angel Gabriel, shepherds and Magi. But the writers have also written scripts for characters who are rarely portrayed, such as Mary's mother, a Roman official announcing the census, and Herod's servant.
The first video will be available on Advent Sunday – November 29 – and they will then be unveiled each day until Christmas Eve.
The project has been co-ordinated by the ecumenical Havant Passion Play group, which presented outdoor performances telling the story of Jesus in the summers of 2015, 2017 and 2019. Those performing in this new production come from churches of all denominations across Havant, Waterlooville, Emsworth, Bedhampton, Petersfield, Rowlands Castle and Leigh Park.
The Living Advent Calendar videos will be on their Youtube channel and on their website, as well as on Facebook.